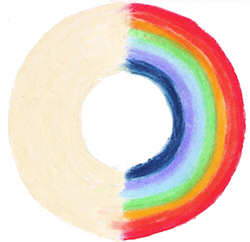 'The light becomes the rainbow. The rainbow becomes the light.'
 By the dawn of 1991, I had already done what, to most people, would seem a mountain of self-development including:
Transcendental Meditation
Certificate in hypnotherapy.
Some judo, kung fu and Aikido (I would later complete a black belt in Aikido)
Tai Chi Chuan (Yang long form)
Taoist/Tantric Sex (This evolved because my Tai Chi teacher urged male students to practise sperm retention)
Training and certificate in Past Life Regression Therapy.
Intensive training and certificate in Breathwork (aka 'Rebirthing')
Allthisnotwithstanding, 1991 rolled into town and I felt in extreme need of more inner work.
In mid-January I went to the then Living Waters Centre to do a four-week intensive.
This led to enrolling in a three-month Training in which we studied and practised Breathwork, Jungian Sandplay, Dreamwork and Voice Dialogue. At the end of this we were required to write a thesis. The most fascinating part of this thesis is 'The Legend of the Monkey God King.' As you read this, keep in the back of your mind Jesus's seven stages of blessedness as outlined in the Beatitudes:
Mourning
Meekness (humility)
Hunger
Mercy (compassion)
Purification occasioning visions
Further purification occasioning the making of Peace in your soul.
The realization of the kingdom of God by baptism by the Holy Spirit (christification of the soul).
To read the Trainee Thesis, click here: Trainee Thesis