The Five Christ Mandalas
July 1991 to November 1991
Next:
Permanent link to this article: http://renlexander.com/ren-lexander/inner-journey/mandalas/the-five-christ-mandalas/
Shopping Cart
Number of items in cart: 0
Your cart is empty.

Total:

$0.00
……….FREE download………. Thriving in the trust wasteland
Testimonials
The Journey of the Souls

"A major part of my personal journey has been finding ways to heal a broken spirit. At some level I could never fully comprehend, I was acutely aware that complete healing could not take place within conventional psychology… Reading The Journey of the Souls and the meaning of life enlightened me. It gave meaning to my questions, and it gave me answers. I had wanted all my life to heal a wounded soul. The Journey of the Souls helped me find a way. To Ren, I am forever indebted."
Decode Your Name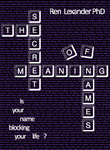 Is your name blocking your life?
Learn about Dr Lexander's breakthrough theory on the secret impact of names.