The Five Christ Mandalas
July 1991 to November 1991
Next:
Permanent link to this article: http://renlexander.com/ren-lexander/inner-journey/mandalas/the-five-christ-mandalas/
Shopping Cart
Number of items in cart: 0
Your cart is empty.

Total:

$0.00
……….FREE download………. Thriving in the trust wasteland
Testimonials
How to Communicate Effectively

"Never before have I actually lost sleep reading a book from the shelves of self-help. I was blown away with the clarity Dr Ren Lexander provides…. And then… the gem worth a 1,000 times the cover price: for each of these he provides achievable, understandable and doable 'stick-on-the-fridge-door' steps to actually achieve everything the title promises. This book changed my life."
Josephine Pennington
Executive Manager
Commonwealth Bank
Decode Your Name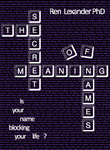 Is your name blocking your life?
Learn about Dr Lexander's breakthrough theory on the secret impact of names.