The Five Christ Mandalas
July 1991 to November 1991
Next:
Permanent link to this article: http://renlexander.com/ren-lexander/inner-journey/mandalas/the-five-christ-mandalas/
Shopping Cart
Number of items in cart: 0
Your cart is empty.

Total:

$0.00
……….FREE download………. Thriving in the trust wasteland
Testimonials
Seduction by the Stars

"This is the Bomb! The Go to Book for Zodiac Advice and observations!, Even reading it every other year or two I still learn a lot from it and sometimes,get shocked how accurate it is! I have around 10 zodiac/horoscope books and counting but this takes the cake! Highly Recommended!"
Decode Your Name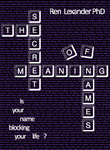 Is your name blocking your life?
Learn about Dr Lexander's breakthrough theory on the secret impact of names.