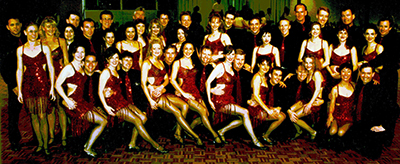 Group routines are open to all comers.
They were choreographed and taught for performance at balls and shows.
In one case - I'm Outta Love - we had national champions in the same routine as dancers who had 13 weeks' experience.
Keep in mind that these are all amateur dancers.
Comments on each routine below...
More:
Mucho Mambo 2000
I was called in to choreograph this with Melissa Tay as the original co-choreographer and she had a falling out.
Despite the fact that I had already won a championships with 'Kashmir' (see below), it was this routine that convinced me that I could choreograph.
This is the only time I didn't select the music for a routine .
It was one of the very first routines ever offered to any student who wanted to do it.Previously routines has been the province of the 'Demo Crew'.
 Voulez-vous
A Triples routine (two girls and one guy) to the tune of Lady Marmalade from the film Moulin Rouge.
I got inspired to do this because I happened to be freestyling with two women when this music came on and I thought, 'This is a perfect piece of music for a Triples routine'.
It was a really fun routine to do... I choreographed it with the help of Deanna Rolfe and Nicola Walters.I totally blame them for taking my ideas and making them much sleazier....
Of course, the song is about prostitution so what would you expect?
Surely the sexiest routine in the history of Ceroc.
I'm outta love
To Anastacia's 'I'm outta love'.
This was a group routine made available to anyone who wanted to give it a go.
We had dancers with 13 weeks experience and at least one dancer with over a decade of experience.
It was debuted as the opening routine for the 'Sizzle' show in 2001. This as the first-ever show comprised entirely of Ceroc routines.
Later, it would be performed at the Australasian dance championships with five couples and, to our amazement, win.
Mucho Mambo 2003
I asked Naomi Jama to help me re-teach Mucho Mambo and, being the wonderful perfectionist she is, this ended up involving re-choreographing sections of the routine.
Time Warp
Choreographed with Deanna Rolfe for the Rocky Horror Dance Show (performed at the annual ball). I directed this ambitious show which featured over 100 amateur dancers performing seven choreographed songs from the Rocky Horror Soundtrack.
I think this Time Warp routine captured the fun lunacy of the film.
I am not dancing here.
There's a light
A monster lifts routine I choreographed for the Rocky Horror Dance Show.
Unfortunately I am dancing in this routine and not in the biobox screaming at the lighting guy to turn up the lights at the beginning of this routine.
A very difficult routine which wasn't quite nailed on the night...
Rocky Horror Dance Show finale
I choreographed a finale-and-bows sequence for the entire cast of over 100.
This is the demonstration (with Olivia Santa) of what was supposed to happen and then what actually happened...
Eddie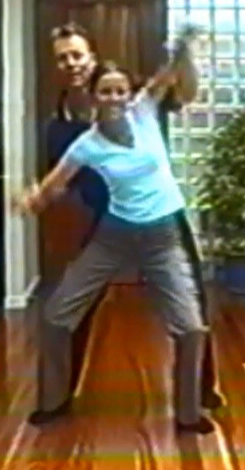 A beginner's level routine choreographed for the Rocky Horror Dance Show assisted by Deb.
This is us polishing up the routine.