Members Only Section
This page is only available to members of the Journeyers. It's free to join.
To register click here: Join Journeyers
Existing members: Log-in.
Permanent link to this article: http://renlexander.com/members-only-sectio/
Shopping Cart
Number of items in cart: 0
Your cart is empty.

Total:

$0.00
……….FREE download………. Thriving in the trust wasteland
Testimonials
How to Communicate Effectively

"I am a big believer in finding the points of maximum leverage for change, where doing the least accomplishes the most.  In this concise book, Dr Ren Lexander has done a terrific job in providing these communication points in an easy to read and digest form that should prove invaluable to many…"
Dr Rick Kirschner
co-author of 'Dealing with People You Can't Stand
Decode Your Name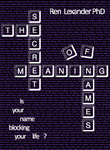 Is your name blocking your life?
Learn about Dr Lexander's breakthrough theory on the secret impact of names.