Members Only Section
This page is only available to members of the Journeyers. It's free to join.
To register click here: Join Journeyers
Existing members: Log-in.
Permanent link to this article: http://renlexander.com/members-only-sectio/
Shopping Cart
Number of items in cart: 0
Your cart is empty.

Total:

$0.00
……….FREE download………. Thriving in the trust wasteland
Testimonials
How to Communicate Effectively

"This is the one book on communication that's relevant to everyone. It's simple. It's complete. It's invaluable. Why would you pay $50 or $60 for a book on communication – like I have done – when this book has it all? It's wonderful. I use it every day. My son's girlfriend lent it to me and now it is absolutely dog-eared from referring to it.'"
Marie Wilson
Health Co-ordinator
Decode Your Name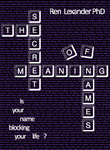 Is your name blocking your life?
Learn about Dr Lexander's breakthrough theory on the secret impact of names.