Members Only Section
This page is only available to members of the Journeyers. It's free to join.
To register click here: Join Journeyers
Existing members: Log-in.
Permanent link to this article: http://renlexander.com/members-only-sectio/
Shopping Cart
Number of items in cart: 0
Your cart is empty.

Total:

$0.00
……….FREE download………. Thriving in the trust wasteland
Testimonials
There has to be more to life than this

"At times I cried with the powerfulness of the connection I felt with Ren's words, especially relating to the writings on depression and addictions. I've always known with a deep spiritual sense that I was stumbling on the right path, or more to the point, struggling up the right mountain. Now I see I'm not stumbling at all, I am and have been doggedly moving forward towards… what? Not sure but I do know life is bloody wonderful!!  Ren you are a star with your deep commitment to your writings. They ar…
Decode Your Name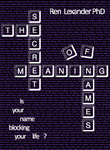 Is your name blocking your life?
Learn about Dr Lexander's breakthrough theory on the secret impact of names.