Members Only Section
This page is only available to members of the Journeyers. It's free to join.
To register click here: Join Journeyers
Existing members: Log-in.
Permanent link to this article: http://renlexander.com/members-only-sectio/
Shopping Cart
Number of items in cart: 0
Your cart is empty.

Total:

$0.00
……….FREE download………. Thriving in the trust wasteland
Testimonials
The Complete Guide to Trust

WOW…let me say this again WOW… This is one of those books that could realistically change the world! Just by teaching it in the schools at the earliest age possible, would, over time, reduce significantly the different types of crime, law suits, fights, divorce rates, arguments to name a few negative things. It should definitely be on the top of the list of self-help books.
Decode Your Name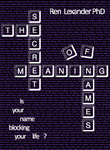 Is your name blocking your life?
Learn about Dr Lexander's breakthrough theory on the secret impact of names.