Members Only Section
This page is only available to members of the Journeyers. It's free to join.
To register click here: Join Journeyers
Existing members: Log-in.
Permanent link to this article: http://renlexander.com/members-only-sectio/
Shopping Cart
Number of items in cart: 0
Your cart is empty.

Total:

$0.00
……….FREE download………. Thriving in the trust wasteland
Testimonials
How to Communicate Effectively

"One of the most useful, positive and helpful books I have ever read… Very enjoyable but also practical and usable. I have actually read it many times over and it is something that I have used just about every day… Your book was excellent and has been my bible"
Nick Bell
Founder
Dynamic Risk Management
Decode Your Name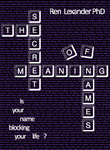 Is your name blocking your life?
Learn about Dr Lexander's breakthrough theory on the secret impact of names.