Members Only Section
This page is only available to members of the Journeyers. It's free to join.
To register click here: Join Journeyers
Existing members: Log-in.
Permanent link to this article: http://renlexander.com/members-only-sectio/
Shopping Cart
Number of items in cart: 0
Your cart is empty.

Total:

$0.00
……….FREE download………. Thriving in the trust wasteland
Testimonials
The Secret Meaning of Names

"This book answered a question long on my mind and in my heart. Look up all your kids' names and find out more about yourself — look up your own name and find out even more about your parents. Look up all your friends' names and get to know them better. Thank you for a very informative and much needed book… a must in everyone's library."
Decode Your Name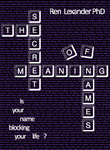 Is your name blocking your life?
Learn about Dr Lexander's breakthrough theory on the secret impact of names.